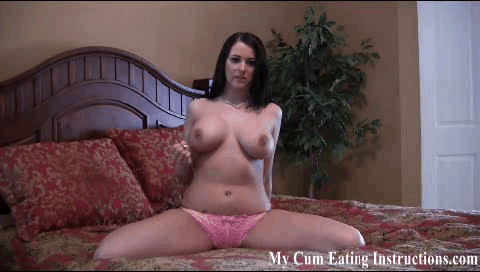 share gif:

Sitting here naked on your bed all day while you're at work.  Well I see that you are home now and I think your dick needs to be played with.

How amazing would it feel to stick your dick in between my huge tits or into my tight, wet pussy,  It would feel like heaven!  Unzip your pants and pull out that throbbing dick of yours.  If you're going to masturbate in front of me, then I am going to make you eat all that cum so start stroking.

Cradle those balls of yours and massage them while you masturbate faster for me.  Keep going a little quicker now and I want you to cum in 5, 4, 3, 2 and 1.  All into your hand and lick it up!  Show me your tongue.

- Alexis Grace