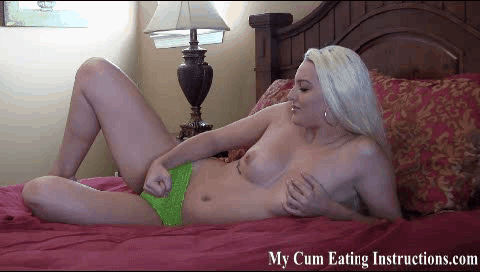 share gif:

You know my body and tits do it for you.  You are completely addicted to stroking that dick of yours for me while I smile at you and softly tell you how to do it.

I got a little surprise at the end for you but for now slide your hand down your pants and start tugging on that cock for me.  Here, I'll play with my tits while I lay in your bed and you can just imagine it is me jerking you off while you stroke up and down and up and down!
It feels so good sliding your dick between your palm like that don't stop for me.  You want to give me a big load!  Masturbate faster for me and cum in 5, 4, 3, 2, 1 and blow it all over your hand and stomach and lick it all up, dirty boy.  That's right, lick up your cum!

- Macy Cartel